Jewellery for Brides
Arguably the most important day of your life is your wedding day, there are so many elements that make your day unforgettable. Your dress, the venue, and of course, your pearls! We have varieties of pearls finished with a deep lustre, to make you sparkle on your special day.
Plan now...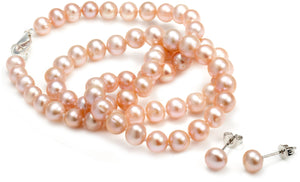 Eternal Pink Necklace and Earring Set
From time to time we like to show of our amazing products. Beautifully simple and sophisticated is our Eternal Pink necklace and earring set. Compliment any outfit with this classic and subtle set.

Our pearls give you confidence and class, making every occasion feel fabulous.

Buy today
Perfect Pearl Gift Sets
Nothing says romance like pearls. We have great selection of pearl gift sets available to purchase, to bring a twinkle to their outfit and tears to their eyes. Shop from our range of necklaces with matching earrings, all unique to one another. We also have a large variety of pendants and rings to compliment every style.
Looking for something a bit different? We stock official Orchira cufflinks, creating a pearl for every occasion.
make your choice
Some Great Pearl Gift Ideas Under £100
Pearls Made To Order
Found something, a design on our site that you like but can't locate it in the right colour? Not to worry. Get in touch with us and tell us exactly what you want, we will do our best to assist you in getting the perfect pearls. With free standard shipping in the UK, don't delay.
Testimonials, Authentication and certification
TESTIMONIALS
Tanya from Alesbury, UK
"Just wanted you to know, that the bracelet is fabulous! - perfect fit, and the shape of the coin pearls force them to stay on the outside and not to slide round the inside of the wrist which works really well. It looks a very pretty piece. It is great and I love it!"
Clare from Leeds, UK
"Big thanks for your prompt reply. Just to let you know that the earrings have arrived today, so no panic! They are really beautiful and perfect for my wedding day!"
ACCREDITATION
All our Jewellery is custom designed, by 'Shan You'  and manufactured by Orchira. We have been a member of the 'National Association of Jewellers' since 2011 and adhere to their principles.
AUTHENTICITY
Every piece comes with a Certificate of Authenticity and these are signed by Shan.
Pearl Snippets - Our Blog